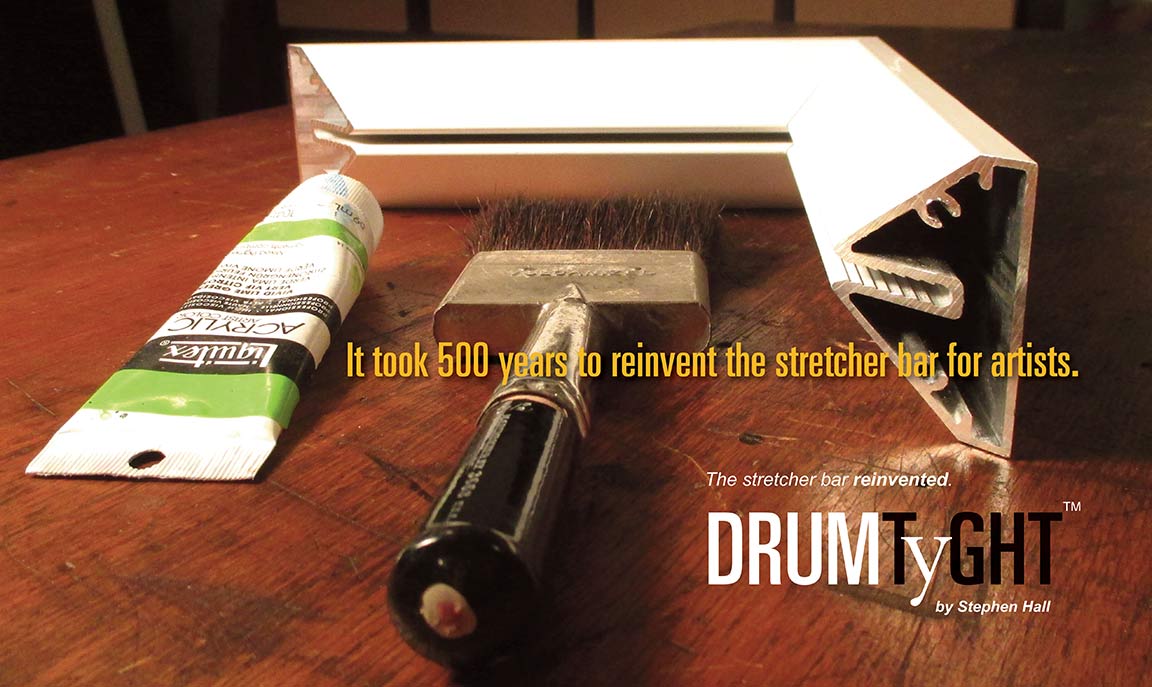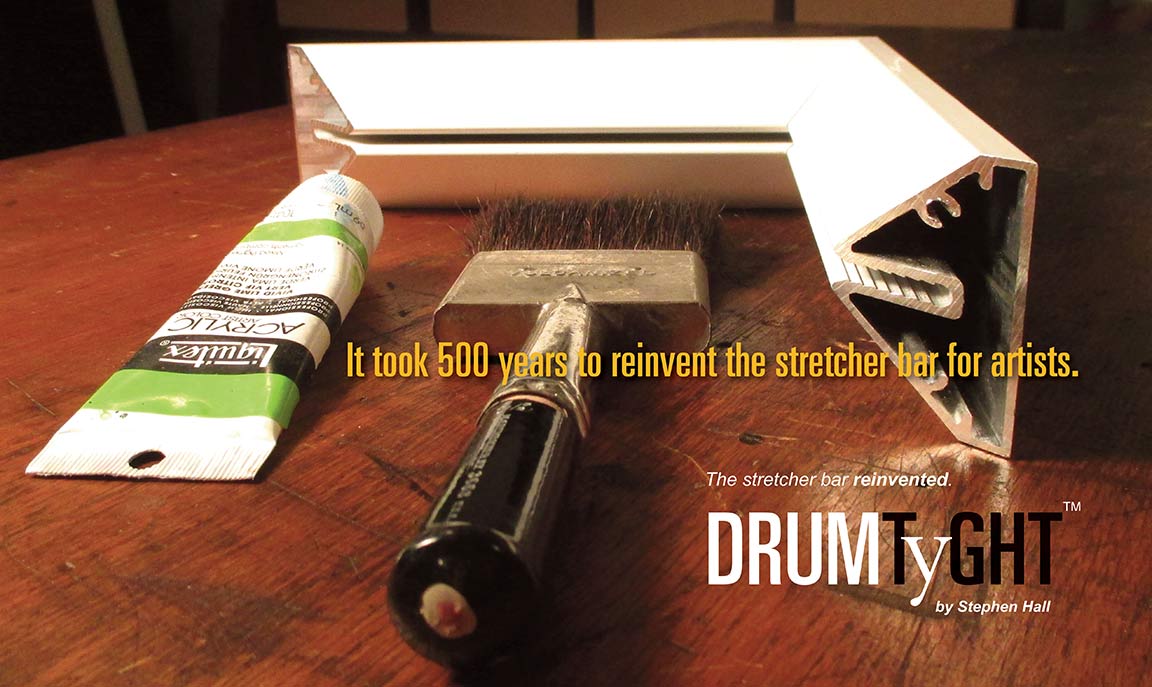 No Wood. No Warp. No Worries!™
The design of the stretcher bar has remained unchanged for 500 years—since the time of the Renaissance artists like Michelangelo, da Vinci and Raphael—until now.
Whether You Paint Like Michelangelo or Picasso
You need to paint on the "latest and greatest" foundation to enhance your reputation as a professional painter. Choose the best — DrumTyght™ extruded aluminum stretcher bars invented by Stephen Hall, available 2020.
Learn More
1. Reliability DrumTyght™ stretchers will not warp, ever. My triangular design negates torsion or the twisting of the frame due to torque.
2. Enhances Your Reputation Drumtyght's™ extruded aluminum material and design allows artists to enhance their professional credentials by using the most up-to-date and highest quality material for the foundation of their artwork.
3. Positioning Statement Enables professional artists to differentiate themselves from recreational artists and hobbyists who are painting on wooden stretcher bars.
4. No Corner or Cross Braces The triangular design eliminates twisting of the frame. No cross braces are needed for up to 20 feet in length. At the 20' mark a connector bar will attach another 20' or less.
5. Reuseable Canvas can be removed and restretched in the exact same position without any loss of image or canvas. Tacks and staples are not used to attach the canvas to the stretcher bar.
6. Firmer Painting Surface Canvas can be stretched tighter with more tension.
7. Less Storage Space Takes up less storage space since frame can be broken down, with no damage to canvas which can be stored flat or rolled.
8. Cheaper to Ship Stretcher bar frame with canvas attached can be disassembled, shipped and easily assembled at the destination.
9. Environmentally Friendly DrumTyght™ stretchers are recyclable, sustainable and 100% made in USA.
10. Simplifies Making Your Own Canvas DrumTyght™ stretcher bars and canvas can be assembled in minutes using only a phillips head screwdriver and a kitchen spatula.
Bonus Benefit Your collectors will appreciate the quality painting foundation that matches the quality of your artwork.
Bonus Benefit DrumTyght™ stretcher bars are designed to withstand the test of time and various environments once your painting is in the home of the collector.


Invented: A Vastly Improved Canvas Stretcher Bar!
U.S. Patent No. 9,108,460 B2
Inspired by the Egyptian pyramids at Giza.
ABOUT DRUMTYGHT STRETCHER BARS
As a painter, I've worked to make a living through my art. It's been a struggle—maybe for you too. However, after a 47-year career, I've created a product and a business model that will solve many of the problems that every fine arts painter faces. I'm now preparing to bring it to market. However, rather than selling or licensing my patented product to a corporation or art materials supplier, I would like for all artists to share in the profits.
How can you share in the profits?
First, I will bring DrumTyght Stretcher Bars to market through an Indiegogo crowdfunding campaign in 2020 to gain funds that will allow me to start manufacturing it.
Second, once operational, I plan to form an artists' purchasing cooperative (co-op) and will award it an exclusive license to sell DrumTyght Stretcher Bars.
By joining the proposed co-op, all member artists will be able to share in the profits from the sales of DrumTyght Stretcher Bars, along with the profits derived from the sales of other art supplies and services such as art coaches, accounting, legal and general business services.
The Drumtyght co-op will be member-owned, member-controlled, and member-benefited—each member will have one vote and one share. Profits will be distributed to members based on the amount of their patronage of the purchasing co-op.
Together, we have an opportunity to form an organization that will provide artists with real financial strength and personal control in the marketplace. But it won't happen without your help. Please sign up and follow my blog and this website, www.drumtyght.com, for updates on how you can participate and our progress. Share this opportunity with your fellow artists. If you have questions regarding DrumTyght Stretcher Bars or the purchasing co-op business model, you may e-mail me at shall@drumtyght.com.


ABOUT STEPHEN HALL
Art director, painter and inventor of the DrumTyght™ Stretcher Bar.
While living in Tucson, Arizona, Stephen often hiked the trails through the red rocks of Sedona seeking inspiration.
My creative career began as art director for Louisville Magazine designing Kentucky Derby layouts — including creating the cover illustration for the 100th running of the Derby. In my publishing career, I have redesigned and art directed over 32 national and regional magazines.
To launch my painting career, I developed a five-year plan to make the transition from art director to artist. Three years into the plan I was represented by a respected gallery, had my paintings shown in ARTNEWS magazine, among others, and several solo shows under my belt. However, I became deeply disappointed with the poorly made brand-name professional canvases stretched over wood. So, I set out to invent a new and better canvas stretcher bar for the professional artist. The result of that challenging quest is the DrumTyght™ Stretcher Bar.
My Portfolio
All work is acrylic on Arches watercolor paper. I stopped painting on canvas due to the constant warping and general unreliability of professional level canvases stretched over wood. I can't wait for DrumTyght to go into production so that I can paint once again on canvas.
Contact Me About DrumTyght
If you have any questions or comments, I would like to hear from you. Has my design met all of your needs? See the Top Ten Benefits to painters.
I prefer that your initial contact be made through this contact form. Stephen Hall Metro Washington DC